Hexham is an historic market town in the North East of England, about 20 miles west of Newcastle. Claire Grint (below right) runs the Cogito Bookshop in this idyllic spot.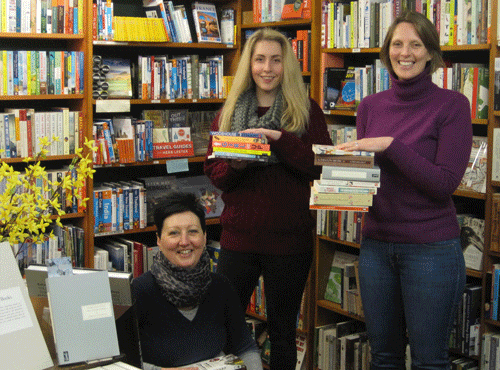 How many people work at Cogito Books? Our team is made up of me, Hilary and Kate.
How long have you had the business? We've just had our 16th birthday. My dad set up the bookshop in 2001. I joined him after finishing university in 2005 and we worked together until he retired in 2012.
What did you do before becoming a bookseller? I came straight from Edinburgh University where I was studying international business studies and French.
What does a typical day involve? There is no typical day, which is one of the things that makes independent bookselling so interesting. It's about being in the shop, serving, matching people with books and offering recommendations. I love that no two days are the same. The work is varied; from creating displays, talking to customers, storytelling sessions at one end of the scale to the more strategic elements involved with running a small business.
What kind of books do you sell? We're a general bookseller with a large area at the front of the shop dedicated to children's books. We also sell a lot of fiction, travel, current affairs, and natural history. We try to offer our customers a great selection of books, catering for a wide variety of interests. We tend to stock one copy of each title which allows us to have a greater range and we can restock quickly.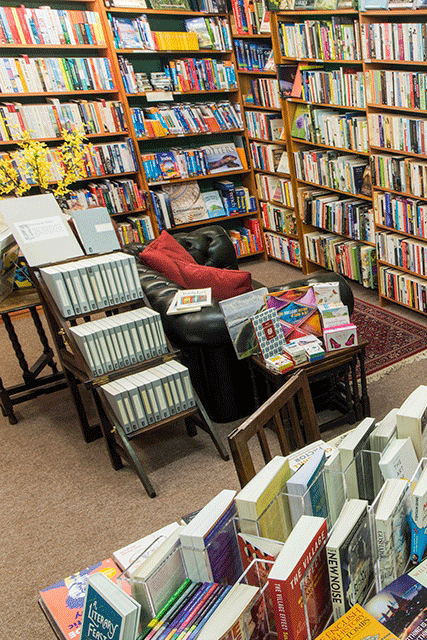 Where do your customers come from? Local people from the town and surrounding villages, and tourists. (We're not far from Hadrian's Wall.) We have customers who live abroad, but always pop in when they're visiting family and there are those who feel that a visit to Northumberland is never complete without a trip to Cogito.
Why are bookshops important? They are a huge part of the community; a hub where people talk to one another. The range of conversations you can have in a bookshop is brilliant and that can't be replicated on the internet. Bookshops are places to easily find the books we're looking for and also to serendipitously discover things to read that we don't know exist.
How would you describe the current state of the trade? I think independent bookselling is really punching above its weight. We have demonstrated the importance and the wonderful role independent bookshops have within our communities and why it is vital that high streets continue to exist. However, I think we need to take this a step further as it is imperative that the value that society has for independent bookshops and what they do is translated into book sales in independent bookshops. We exist because we sell books.
Are you optimistic or pessimistic about the future? These are extremely challenging times but you have to be optimistic. When you see the great love and excitement people have for books, that's extremely encouraging. You have to explore ideas and new ways to keep people involved with reading, books and with freedom of speech.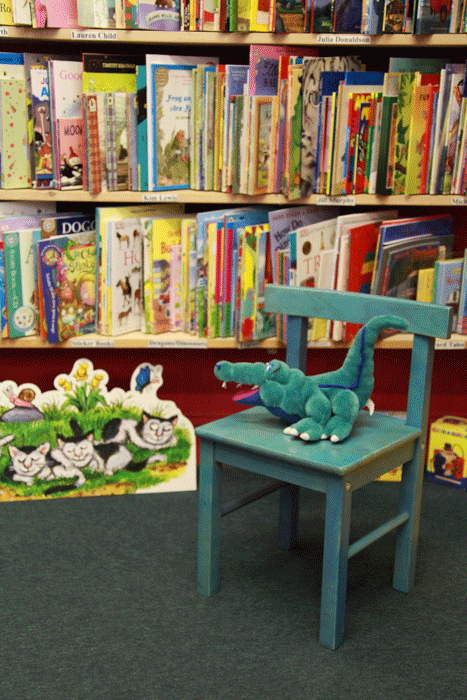 How do you compete with the chains? All independents face a great deal of competition and in Hexham, despite being a small market town, there is also a Waterstones and a WHSmith's. We have used our values, personalities and individual reading to shape Cogito's uniqueness. Our carefully selected range of titles and our knowledge and passion for good books along with our care for our customers and our town are at the core of all that we do. 
Are online sales important to you? We have a transactional website that generates some sales, but is primarily a virtual window into Cogito Books. I believe it is important to have an online presence, but the bookshop is the main focus of our energy.
What aspects of the business do you most enjoy? Introducing customers to new titles; connecting people with books, and being part of the community. Books touch peoples' lives in so many different ways and there is something special in being an independent bookseller where you are part of the discovery of those books.
What aspects of the business do you most dislike? The paperwork and the frustration of receiving damaged books; the waste and inefficiency.
How do you choose stock? From a wide selection of different sources but basically if it makes me think 'that sounds interesting' it is a good start to it being on our bookshelves. We have many interesting bookish conversations with our customers and in turn we've been introduced to some excellent reads.
Do you organise in-store events? This is another creative and interesting way to introduce customers to books and we host different types of event depending on what suits the book and author best.  We also run three monthly book groups: for fiction readers, crime fans and children. Not forgetting our weekly pre-school storytelling sessions. We're also the bookseller for the Hexham Book Festival, which grows year on year, as well as being involved with many other events that take place in the town from teddy bear's picnic storytelling to book stalls at the Hexham Debates talks.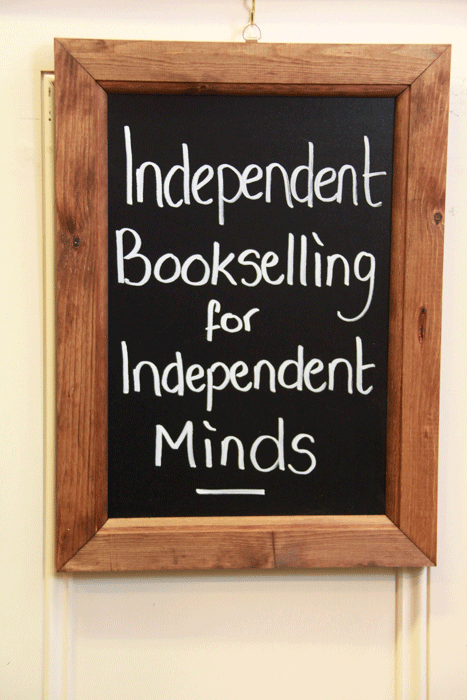 What have been this year's bestsellers? It's very difficult to name just a few, but some particular highlights are: a children's book called Fish Boy by local author Chloe Daykin has been really well received by our customers. We did an event not that long ago with Sue Gee talking about her book Trio which is set in Northumberland and that has continued to sell very well. Prisoners of Geography by Tim Marshall has caught many people's interest, too. I've also hugely enjoyed Love of Country by Madeleine Bunting.
What advice would you give to someone considering opening a new bookshop? It's not a job, it's a way of life – it is part of who you are, not what you do. Bookselling requires a lot of time, energy and patience, but it's really good fun, rewarding and you enjoy what you do.
What are you reading at the moment? I seem to have a couple of things on the go: My House in Damascus by Diana Darke and on a lighter note Marking Time by Elizabeth Jane Howard.
Batch and Your Business

How does Batch help? We've used the Batch payments scheme and Batch returns for a good number of years. Batch makes it easier and more efficient to clarify which invoices and credit note are relevant to which supplier in any given month, and helps to reduce bank charges.
Which BA services do you use? It's a good thing to be part of the Booksellers Association. Not only do they bring the trade together but they represent bookselling in ways that would be beyond what an individual bookseller could do. We're part of National Book Tokens and use their resources such IBW and initiatives such as Books Are My Bag. I find that their annual conference gives me fresh energy in the run up to Christmas and is a great opportunity to meet booksellers from all over the country. The BA does a great job and I urge them to keep up their good work!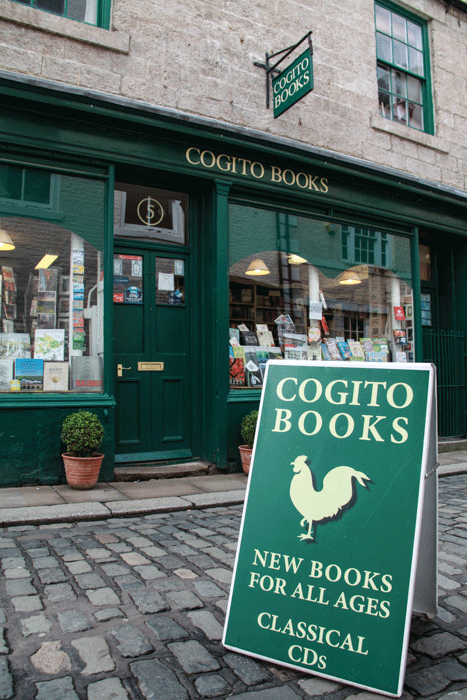 Cogito Books
5 St Mary's Chare
Hexham
Northumberland
NE46 1NQ
Contact:
Tel: 01434 602555
Email: This email address is being protected from spambots. You need JavaScript enabled to view it.
www.cogitobooks.com
www.facebook.com/CogitoBooks
Twitter @CogitoBooks