Susanne Bendixen, Accountant for Academic Books in Copenhagen, tells us about academic publishing in Denmark.
Where are your shops? We have six shops named Academic Books on different campuses of the University of Copenhagen and at the Copenhagen Business School. One in a shopping street, but also close to the university. They range in size from 150 to 300m2. 
How many people work with you? We have two to four people in every shop all year round. We employ a lot of extras at the start of term.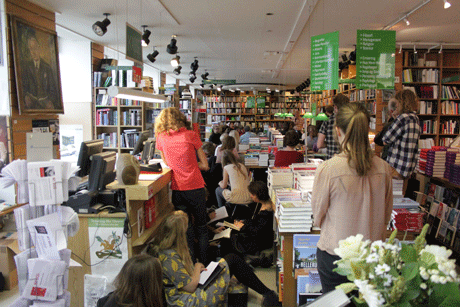 What kinds of books do you sell? Mostly books for studies. Approximately half are in Danish and half in foreign languages.
How long have you had the business? Each shop is different. It ranges from ten to 45 years.
Where do your customers come from? Students, online and in the shops. We have a lot of institutional and professional customers.
How would you describe the current state of the book trade in Denmark? It is rather hard to be optimistic, but as we are specialists we hope for the future.
What do you most enjoy about being a bookseller? Helping customers get what they need.
Is there anything that you don't like about being a bookseller? Amazon! Copying is a growing problem.
How do you choose which books to stock? This is highly dependent on which books are used in the studies. We rely on close co-operation with the institutions, which works very well.
Batch and Your Business


How does Batch help? We have been using Batch for 20 years. It makes it easier to make payments and be sure what is paid. It is easier to get copies of invoices and credits. It saves money on bank transfers.

Academic Books
Rosenørns Allé 9
DK 1970 Frederiksberg C
Denmark
Tel: +45 3815 3890
Contact: This email address is being protected from spambots. You need JavaScript enabled to view it.
www.academicbooks.dk