Karina Horitz is the Book and Product Buyer for four gallery bookshops in Budapest.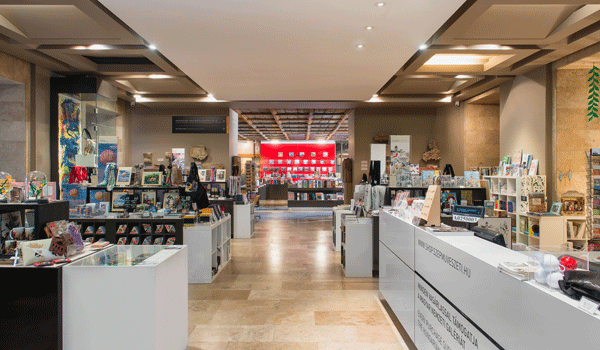 Above: Hungarian National Gallery shop. 
Where are the Múzeum Shops? Our shops are in major Hungarian Art Museums in Budapest, drawing over half a million visitors a year. Apart from housing its own collection, each Museum hosts between two and three major temporary exhibitions each year.
   In the Hungarian National Gallery sited up in the old castle district in Buda, we have just opened a major exhibition focusing on the German artist Georg Baselitz, but we also have exhibitions on significant Hungarian Artists in the context of a wider European or international context.
   The Museum of Fine Arts, Budapest has been closed for major renovation since early 2015. We plan to reopen the building in autumn 2018, after extensive renovation has been made on the building, as well as reopening to the public an exhibition hall which has not been seen for 75 years.
   In June 2017 we will be reopening the Vasarely Museum in Budapest which houses the work of the internationally known Victor Vasarely, a Hungarian optical artist who emigrated to France in 1930. He is considered the 'grandfather' of Op Art.
   We also have a small shop in Ferenc Hopp Museum of Asiatic Arts. Unfortunately the full collection is not on view, but we have two temporary exhibitions a year focusing on different aspects of Asiatic Art. Currently we have an exhibition on Traditional Dress from Mainland Southeast Asia. The museum is in a grand villa on the main avenue, Andrassy Street, which leads up to the historic Heroes Square, a main stopping off point for visitors to Budapest.
How large are the shops? The Múzeum Shop in the Hungarian National Gallery is approximately 150sqm; the shop in the Fine Arts Museum is approximately 145sqm; the shop in the Vasarely Museum is approximately 40sqm and in the Ferenc Hopp Museum of Asiatic Arts the shop is only 10sqm.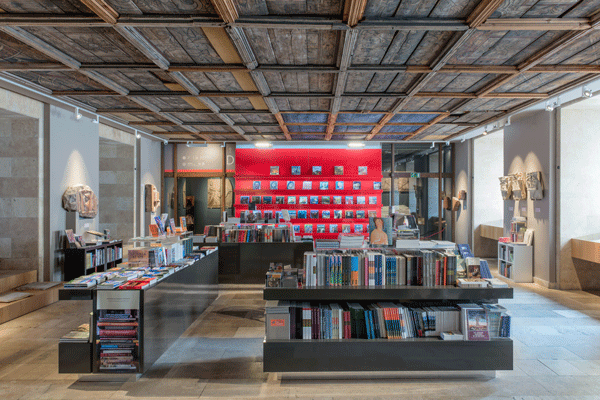 Right: Hungarian National Gallery shop.
How many people work with you? On the shop floor of the Hungarian National Gallery we have eight members of staff; in the Vasarely Museum two people only and in the Ferenc Hopp Museum of Asiatic Arts the bookshop is staffed by one person. In our Buying, Management and Admin team we now have nine people, along with a separate warehouse independent from our museum shop sites. When we reopen the Museum of Fine Arts, Budapest we will probably have, as before, seven people.
   Over the last two and a half years we have developed a distribution department to our company to small independent bookshops and museums in Budapest that don't have the infrastructure or know-how to order English language publications and also products.
What kinds of books do you sell? Firstly we sell our own exhibition catalogues, available usually in Hungarian as well as either English, or other languages depending on the subject of the exhibition. We then stock books which focus on the artists in our collections as well as our temporary exhibitions. We also stock a range of books on Art, Art History, Art Theory, Antiquities, Architecture and Photography, all in English, Hungarian and with a smaller range of other languages. We also sell a selected range of guide books to Budapest and in our Hungarian National Gallery shop we stock books on the history of Hungary and castles.
Below: The management buying team at the Paris Museum Expressions exhibition (left to right): Viktoria Török: Retail and Product Development Manager; Balázs Kégli: Company Director and Karina Horitz: Book Buyer and Product Development Manager.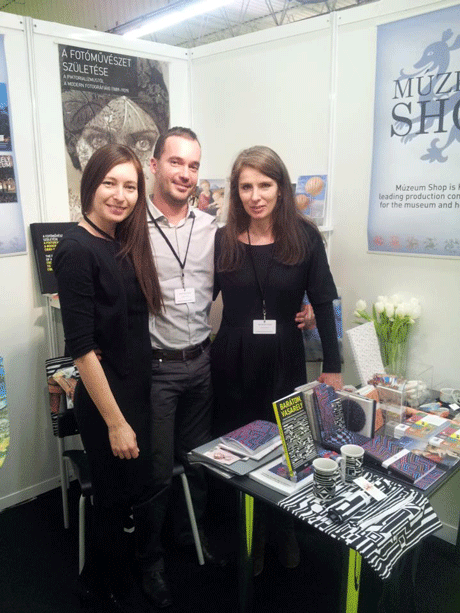 Where do your customers come from? Depending on the time of year and what temporary exhibitions we have on show, we have a constant number of Hungarian visitors and ever-growing numbers of international tourists.
How would you describe the current state of the book trade in Hungary? I don't have much experience of the general book trade, although Hungarians are a book-loving nation. The older generation of Hungarians usually have quite an extensive library at home; before the political transition publishers were well funded by the Culture Ministry and books were subsidised. Currently the low average salaries in Hungary are not conducive to a healthy book trade, however Hungarians will happily buy English Language art books for children so that, as well as enjoying engaging with art, they are developing language learning at the same time.
Do you feel optimistic or pessimistic about the future? Thankfully because of the fantastic collections that our Museums hold and because we have an impressive series of temporary exhibitions scheduled, we are optimistic about continued growth in our museum shops. Naturally the economic climate in Hungary is challenging, as it is elsewhere, however we do not see a drop in the numbers of tourists; on the contrary we see growth as word gets around as to how beautiful Budapest is!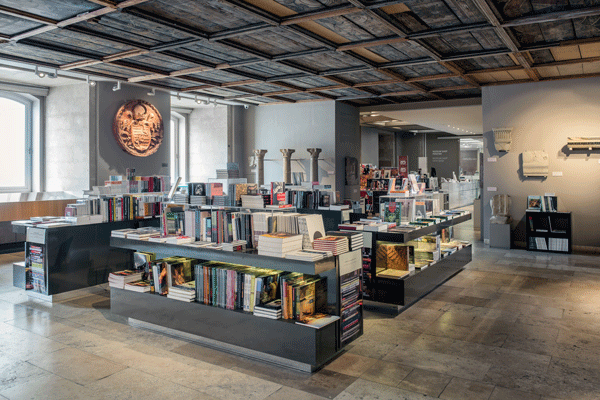 Left: Hungarian National Gallery shop.
What do you most enjoy about being a bookseller? I love art books. I love researching what books we should have for temporary exhibitions and new publications that fit with our collection. We always try to stock a range of books from academic studies through to popular introductions to an artist for the general public.
Do you organise events, such as book signings? Yes we do and it is something we want to develop in the future. We also have a monthly late-night programme, with jazz sessions, guided tours and workshops, all around a particular theme. We complement this with a selection of relevant books.
Do you sell books online? Yes we have started to sell a small selection of English Language art books but sales are not very strong, I think people prefer to buy art books having browsed and selected the book in the shop rather. Webshop: http://shop.szepmuveszeti.hu/
Do you sell e-books and e-readers? We are currently looking into the feasibility of offering our museum guidebook in an e-book form.
Do you use social media for your business? In Hungary Facebook is the main social media forum as well as Instagram, and yes we use these very regularly and we are building a strong group of supporters through this.
How do you get your books from the UK? We have been working with World Wide Book Services since 2005 and we receive regular shipments from them.
What are you reading at the moment? Montesquieu's Persian Letters. Despite being written nearly 300 years ago, the letters contain words of wisdom on all aspects of life, love, and western and eastern religions and cultures.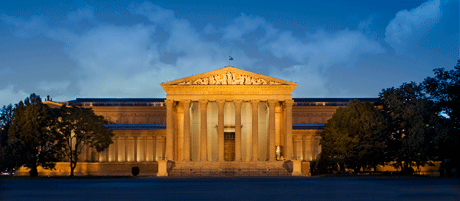 Left: Museum of Fine Arts.
Batch and Your Business
In what way does Batch help your business? We save SO much money in bank charges, we wish that all publishers would use this service as it would help small businesses and independent shops incredibly, particularly non–UK shops. Our accounts department love Batch as it is so easy to use to check invoices, budgets and  deadlines. We couldn't function without it!
Do you use Batch Returns? No, because it is too expensive to ship books back to the UK.

Hungarian National Gallery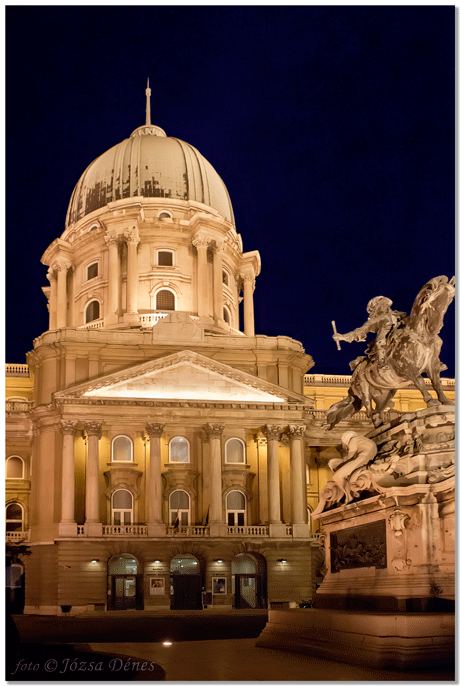 Magyar Nemzeti Galéria

Buda Castle Palace

A/B/C/D Buildings

Budapest 1014

Hungary

Tel:+36 1 201 0887

www.mng.hu/en

Museum of Fine Arts Budapest

Szépművészeti Múzeum

Heroes' Square

Budapest 1146 

Hungary

Tel:+36 1 469 7289

www.szepmuveszeti.hu/main 

Vasarely Museum

Szentlélek tér 6

Budapest 1033

Hungary

Tel: +36 1 388 7551
www.vasarely.hu 
Ferenc Hopp Museum of Asiatic Arts
Andrássy út 103
Budapest 1062
Hungary
Tel: +36 1 469 77 59
www.hoppmuseum.hu
Right: Hungarian National Gallery